Slides of the Antarctic
first published, in a slightly different version, by Isotope, Spring 2005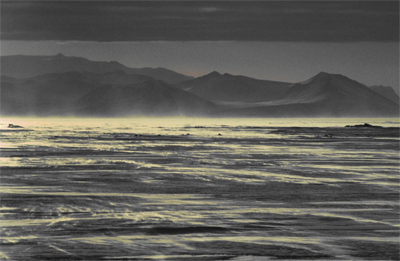 Whiteout leads the sight outward
until it falls. Too many blind hours,
the eye like a fly pulls in its legs,
sleeps.
*
A shadow is made vague:
The cold lamp
Snow makes of light.
*
The wind snicks at the snow with its little blades.
The rush of frozen cells,
their dizzy glittering search
for rest from wind.
*
A tracked vehicle
inches and puffs against the vast
threat of inertia.
*
Seals fly up to the sea ice
through these cracks,
to rest all day
before gliding back down into the only local night.
*
This surgical whiteout:
bad light and quarantine.
*
We are motes on the cataract
Of the blind polar eye.
---
Slides Of The Antarctic (self-portraits)
*
Here I am
off the chart.
*
I am a tow-headed pin on a white map,
on the back of the map.
*
The ice reads me
indistinct. Here the self-portrait
fills with frost.
*
Is that a smile?
The cold nest of my lips,
the dead eggs of my teeth.
---
Slides Of The Antarctic (black-and-whites)
*
There, across the scrimshaw bay,
men waiting
against the numbered planks of the hut.
*
The horizon our circus ring
Empty harness at our feet
*
Restraint stalks us.
All this cold
Casts its shadow
On our feet.
---
Slides Of The Antarctic (in the interior)
*
The lightbulb circumnavigates its empty room.
*
Here is the cold. Here the air.
A nunatak in the clear
distance
cannot breathe.
*
No wonder
This place is the color of bone.
*
Under this snow
an asteroid of ice.
*
Here the path fails.
There is no other
end. The horizon sleeps
at your feet.
*
Wind pulls the hair off
this sleeping head. Snow dust
files along in an ancient panic,
and no one here can find any rest.
*
Wind blinds us
In its blind way
Wind bumps into us
With all its white canes
*
"No holiness. Vast emptiness."
—Bodhidharma